Building
Relationships.

Creating happy and harmonious relationships between clients and their customers.

Honest, Effective, Compelling.

Strategic Communications.
A Bit About Us
Clearly Content Communications Inc. provides honest, effective and compelling stories through strategic communications and digital communication. These create happy and harmonious relationships between clients and their customers, stakeholders and target audiences.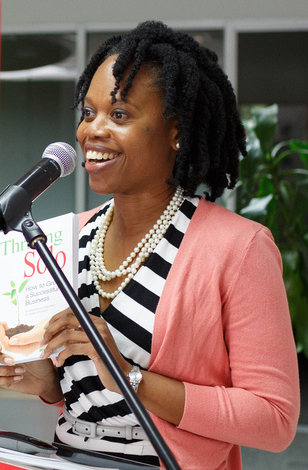 Heather's all smiles as she gets ready to give away cool stuff at an UPstart Caribbean workshop
The Team
Heather Barker is Managing Director. The UK and Jamaica-trained communications practitioner has 20 years' experience in Public Relations and Web Development in the UK and Caribbean.The associate team comprises:
Event Managers
Website Developers
Research & Measurement Specialists
Marketing communications professionals
Audio-Visual Specialists
Storytellers and others
Barker has a degree in Mass Communications (UWI, Mona) and an MSc in Electronic Publishing (City University, London).
She is a member of the International Association of Business Communicators (IABC) and achieved their professional accreditation, ABC (Accredited Business Communicator) in October 2013, only the third person in Barbados to achieve this.
Oh and you should know this – we're passionate about business development and helping others get there. That's why we launched UPstart Caribbean in 2014, a Public Education Campaign on entrepreneurship.
Renee Gibson, Project Coordinator
An expert in Stakeholder Management particularly stakeholder engagement strategies and action plans. Renee oversees project proposals, strategies, programmes and events to ensure that CCCI remains cutting edge in their practices, delivers exceptional products/services and continues to achieve their objectives. Renee and Heather have collaborated on several agricultural, environmental and social projects over the past six years. Renee holds a Bachelor's degree in Public Sector Management and a Master's degree in Project Management & Evaluation.
Israel Mallett, Chief Creative
Proficient in the industry-standard Adobe Creative Suite of programs and particularly interested in brand development with startups and established entities, Israel provides creation of digital media solutions for CCCI's clients looking to re-brand or refresh their image. Israel and Heather have worked collaboratively for over 10 years. Israel holds a Bachelor's degree in graphic design from Barbados Community College and a Certificate in Marketing, Public Relations and Advertising from The University of the West Indies, Open Campus.