Strategy Meets Communications.
Clearly Content Communications Inc. provides strategic, clear and effective communications solutions which enhance clients' reputation and create and maintain harmonious communications and relationships with their target audiences. Interested? Then get in touch!
"Story Share"
"Story Share" is our latest service which is designed to help clients, whether large corporates, NGOs or entrepreneurs, raise their profile and build better goodwill for their products or services.
If you're new to what communications can do for you, you'll love our offer of 3 press releases or features over a three-month period.
Email us now to share your story!
Corporate Communications
• Public Relations – Media Relations (press releases, media invites, press conferences, events, launches), Publicity, Public Education, Community Relations, Issues Management,
• Stakeholder Management
• Social Media engagement strategies
• Editorial services for magazines and newspapers and other businesses
• Multimedia presentations
• Report preparation (formatting)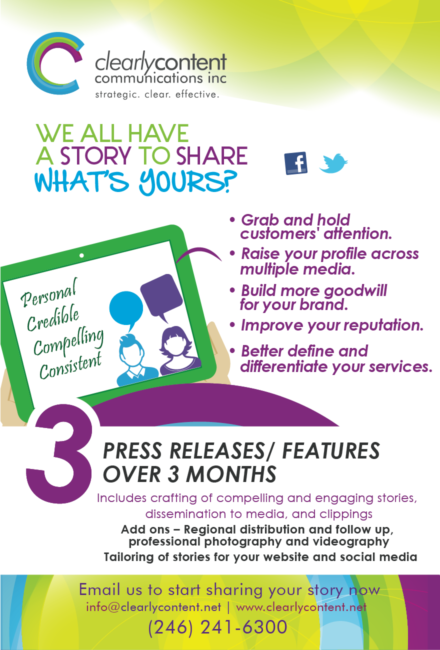 Website Development & Social Media Engagement
• Template or bespoke solutions
• Attractive design which communicates tone of voice
• Database-driven, allowing for rapid update of sites
• Safe and secure for hosting of client information
• Interactive and intuitive
Event Management
Event planning
Procurement of 3rd party suppliers
Contingency planning
Budgeting
Copywriting and editing
Writing, editing and proofing content to improve its clarity and effectiveness especially for the Web
Training in effective writing for the web
Developing style guides for digital media projects
Information Architecture
Planning websites that make it easy for people to find their way around them and easy for you to call them to action
Testing websites on target samples and making refinements so that they're more effective
Website Maintenance
Updating site content on a regular basis so that target audiences will be compelled to return for fresh content
Site audits – doing critical review of existing sites and making recommendations  that make sites more effective